"Through the Lens" will appear once per week during the offseason. Packers team photographer Evan Siegle deconstructs some of his favorite images from the 2018 season. Each week will offer a new photo gallery of some of his best photos from the past season.
Players' entrance
You could say that I was pretty excited knowing that I had a chance to document a Green Bay Packers game inside the historic Los Angeles Memorial Coliseum. The stadium's history and size was pretty impressive, and the ambiance didn't disappoint, either. It was surreal to me knowing that I had the opportunity to take pictures in a venue that once held iconic sporting events like the Summer Olympics, 1959 World Series and Super Bowl I. I had a lot of fun creating imagery showcasing the Coliseum and the Packers, but one of my favorite compositions from the game (feature-wise) was Clay Matthews as he walked out of the locker room. The words "Players Entrance Athletic Building" were displayed in a metallic font above the double glass doors. The old-weathered concrete walls added a nice texture to the image, too. Knowing that Matthews played college football at USC, which plays at the Coliseum, and all the great athletes who walked beneath those words made the image meaningful, too. This image was shot with an 35mm lens (ISO = 1000, Aperture = f2, Shutter = 1/1000th)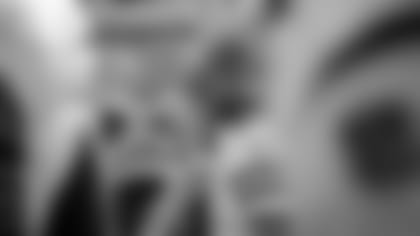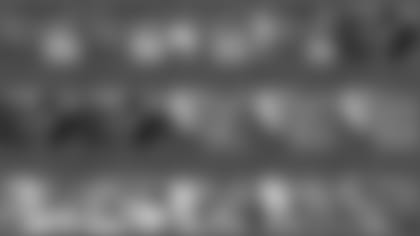 Inside the huddle
One of the greatest challenges, for me as the team photographer, is documenting the team huddle. Sounds pretty easy but it definitely has some hurdles. I'm a short guy, so if I don't get in there first, well then, I'm pretty much out of luck. Some of the time the players will let me slide my way into the huddle, but sometimes I just have to pre-focus, hoist my camera up above my head, and spray and pray while standing outside the huddle. Secondly, it's pure chaos, especially when the national TV guys are in the mix. There are times when I get a handful of cool images but there are also times that it doesn't work the way I envision it, by either being blocked or getting frames out of focus. I think the most important thing is recognizing when it's not panning out, you need to either adapt or just move on to another shot. A perfect example was during Week 8 in Los Angeles. I went from photographing Aaron Jones and Jamaal Williams getting the squad fired up to getting blocked by a network camera guy. I quickly moved on to other openings. I then found another opportunity as the players gravitated towards Randall Cobb as he rallied the troops before the huddle broke. Everything happens so fast. Luckily, I made several decent frames. My favorite image from the huddle sequence was this image of Aaron Rodgers, which I captured while looking for another window into the huddle. My low-angle view and framing made this image stand out. This image was shot with a 35mm lens (ISO = 100, Aperture = f2, Shutter = 1/3200th)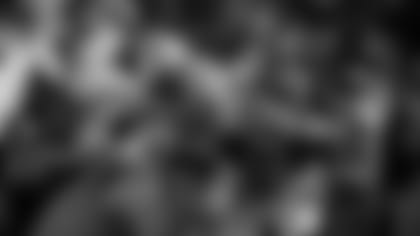 95 in my top 25
I always make sure to capture those "big plays or moments" from a game and it's usually the first thing I look for when I flip through my edits after the game. Sometimes I don't even know what images worked out. And most of the time I try not to preview the images after I capture a play. I either have it or I don't. My main focus is making sure my exposure is on point and I'm in the right position. Ultimately, I want to come away from a game with at least 25 really good storytelling images, ones that really stand out due to peak action, lighting, composition, etc. After every game I'm excited to see what I captured. A lot of credit goes to my photo editor, Duke Bobber. He does a terrific job on photo selection and toning my images from every game. During Week 14 against Atlanta, I captured this image of defensive lineman Tyler Lancaster, No. 95, as he made a defensive stop. This image probably isn't defined as a "big play," but it's a solid action image that displays intensity and has great color tones. No. 95 definitely made it in my top 25 from that game. This image was shot with an 400mm lens (ISO = 200, Aperture = f2.8, Shutter = 1/5000th)
Team photographer Evan Siegle shares some of his favorite images of the 2018 season.