"Through the Lens" will appear once per week during the offseason. Packers team photographer Evan Siegle deconstructs some of his favorite images from the 2018 season. Each week will offer a new photo gallery of some of his best photos from the past season.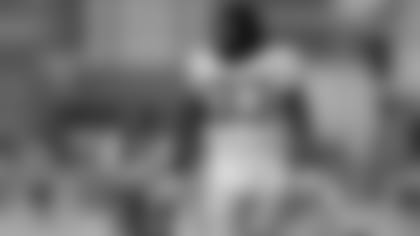 No. 33
The tradition is like no other in sports. Every training camp I get to document youngsters as they walk/ride down Dream Drive with the players. There always seems to be some type of priceless moment, too. It's cool to see some of the players, and their chosen youngsters, build relationships throughout camp. When I document the tradition, I always look to find connections, interactions and worthy moments. One day in August, I saw a little girl walking with Aaron Jones. They were holding hands and both sporting a No. 33 jersey. Call it your "Kodak" moment. I love how Jones is carrying a tricycle too…it was a sweet moment. I'm looking forward to this July when the tradition continues. It's always easy documenting the gratitude on Dream Drive.
This image was shot with an 400mm lens (ISO = 200, Aperture = f2.8, Shutter = 1/6400th)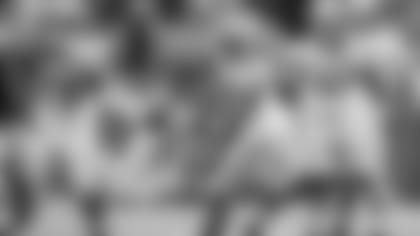 Fingers
Sometimes a basic catch can turn into a "holy fright" kind of picture. What makes this photo so special is the strength of Davante Adams' fingers. Honestly, it doesn't surprise me that Adams made this catch during a game against the Detroit Lions at Ford Field. Having good timing is everything when it comes to sports photography, but sometimes a continuous shutter brings you a little extra luck, too. It's an image you can just stare at and appreciate the playmaking ability. This image was shot with an 400mm lens (ISO = 3200, Aperture = f2.8, Shutter = 1/2000th)
Downfield play
NFC North games are the absolute best, and I always look forward to those Packers vs. Bears matchups. I captured this moment of Aaron Rodgers last season in Chicago. I really like his body language as he looks downfield and ready to make a play. The composition shows Rodgers in his element. I like the look in his eyes too, as if he's just waiting for that perfect moment to make a big play against the Bears' secondary. The best part about the game was the mild weather… I can't remember the last time I covered a game in December at Soldier Field where the weather wasn't freezing cold and windy as heck! This image was shot with a 400mm lens (ISO = 400, Aperture = f2.8, Shutter = 1/3200th)
Team photographer Evan Siegle shares some of his favorite images of the 2018 season.