'Through the Lens' will appear periodically during the offseason. Packers team photographer Evan Siegle will deconstruct and give insight to some of his favorite images from the 2021 season. Each week will offer a new photo gallery of some of his best photos from the past season.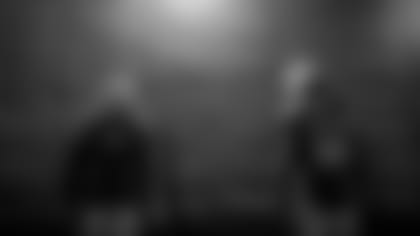 Rookies Await
"Returners, you got one minute," is a phrase usually bellowed out by Thadeus Jackson, strength and conditioning assistant coach, while the players are getting ready in the locker room before a game. Those words are solely for the players, so they know exactly when to leave for the field for pre-game warmups, but it also gives me a heads-up to get into position for photos. First, it's the specialists, then the returners and so on. I usually document the players as they make their way down the hallway outside of the locker room and towards the tunnel to the field. I love documenting that walk, and I've found some visual gems along the way too. It's a time where a player might depict intensity, focus or even nerves. I also love using the textured concrete walls, the spaced-out individual wall lights, which can be used to create a mood and the strip of historical bricks near the entrance to the field. That walk from the locker room to the field is filled with all kinds of character and compositions.
Before the first home game of the regular season, against the Detroit Lions, I captured this moment of Packers rookie receiver Amari Rodgers and rookie running back Kylin Hill as they stood inside the tunnel. The players took a moment along the concrete wall as they waited for their teammates to join them. I love how the players almost mirror each other; their body language gives the composition an asymmetrical balance. You can see their anticipation/excitement in their body language, with Hill flexing his fists and Rodgers lowering his head, as he gets into the right mindset. The texture on the walls and the lighting sets the mood and makes the image so much more visual too. Two rookies await to take the field to play their first game at historical Lambeau Field.
This image was shot with a 35mm lens (ISO = 4000, Aperture = f1.4, Shutter = 1/800th)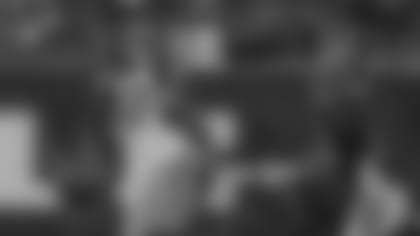 One Seven
Packers receiver Davante Adams is a big-time playmaker and playmakers are sure fun to photograph. Adams is a walking highlight reel, from his spectacular catches to his mojo on the field. I've stated this in the past, but anyone can photograph sports, it's quite easy if you have the gear for it. I say a good sports photographer must have great preparation, anticipation/instincts, great timing and of course luck, because a play can happen anywhere on the field. I think the biggest hurdle in getting amazing action shots is having clean backgrounds and a good angle. I guess that's where luck kind of falls into the equation. Sometimes an action shot might look good from a frontal view, but it might look even better from a side view. A perfect example is this image I captured of Adams making a catch past a Bengals defender during Week 5 in Cincinnati. The Packers were near midfield, so I left my usual spot in the back of the end zone and planted myself along the sideline around the 15-yard line. I left my spot because I wanted to be closer to the action but in the end, it gave me a better angle on Davante's catch. It's the little things that make this image so much stronger, from his eyes on the ball, the separation from his defender and a somewhat clean background, which are all things that might not have been seen from a frontal shooting position. I'm glad I made the move along the field and I'm glad 'Tae made another playmaking play.
This image was shot with a 400mm lens (ISO = 400, Aperture = f2.8, Shutter = 1/6400th)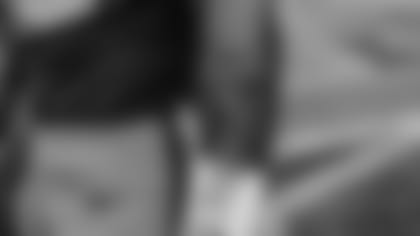 I Always Bet on Myself
I remember seeing AJ Dillon's tattoo back in 2020, when I photographed him during one of our player portrait sessions. The statement stood out as he posed for shots. We took a photo of him pointing to the phrase that is inked amongst other things on his forearm. Confidence is a powerful thing.
I've always been drawn to photographing detail shots, such as tattoos, eyes, etc., because I think it can be very creative and an uncommon way to look at things. The details can offer another layer in storytelling or the documentary style process. It's all about the action but feature photography can be just as powerful, if not more.
In this photo you can see the pores and sweat on Dillon's skin. I thought it looked best in a monochromatic format.
This image was shot with a 35mm lens (ISO = 160, Aperture = f1.4, Shutter = 1/2500th)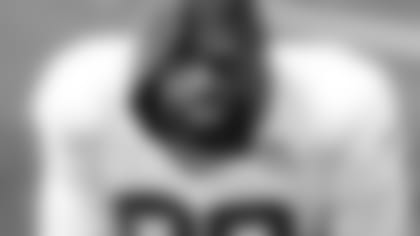 Big Dog
When he speaks, they listen, his name is Marcedes Lewis – a.k.a. "Big Dog."
He displays a cool demeanor, and he has a way with how he projects himself, which is pure swag. He's a massive guy, who sometimes gives me trouble when I photograph him, being he's so tall and I'm short.
One practice I saw him kneeling along the sideline. It was a good opportunity for me to get an eye-level type image, instead of an upward perspective. I took a chance on getting close, knowing that an extremely shallow depth of field would be such more dramatic. My focus went right to his eye. I snapped off four frames and moved away. I love the beads of sweat that are scattered across his face and his saturated hoodie that is draped over his head, leaving one eye exposed. This image was taken on a hot summer day, early August, during training camp. The image depicts grit, sweat and hard work, the dog days of summer, or should I say camp.
This image was shot with an 85mm lens (ISO = 100, Aperture = f1.2, Shutter = 1/6400th)