'Through the Lens' will appear periodically during the offseason. Packers team photographer Evan Siegle will deconstruct and give insight to some of his favorite images from the 2021 season. Each week will offer a new photo gallery of some of his best photos from the past season.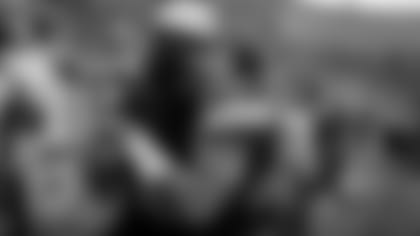 Brotherly Love
Most of my favorite images tend to be non-action type photos. They might showcase a graphical element or maybe it's a quiet moment in time. Ultimately, I want them to stand out and offer the unexpected, which aren't seen by others.
Whenever and wherever I'm documenting the team, my head is always on a swivel, looking for those unique moments to unfold. Sometimes that moment might happen in a split second, so I always try to be prepared.
One of those moments came on Christmas Day this past season. While documenting the players during warmups I noticed that Aaron Jones' brother, Alvin, was watching from the sidelines.
This past season was emotional for Aaron, as he lost his father, Alvin Jones Sr., during the offseason. Respectfully, I tried to document special moments of Aaron as he paid tribute to his late father. Moments like Aaron pointing to the sky, or taking a knee for prayer near a section of the stands where his father might have been. How can you not love Aaron Jones and his story? A baller who has been turning heads and impressing the doubters with his on-the-field performances with "Keep Doubting Me!!!" and "Pops" written on his taped wrists.
Knowing that Alvin was on the field I figured that the two bothers might visit with each other. Not knowing what would unfold I still stayed put, even if it ended up being a posed, looking-into-the-camera type shot. It ended up being so much more. Aaron buried his head into Alvin's arms. Their embrace was emotional. The best part was the words "Pops" with a heart on full display.
Fans cheer for him and I'm lucky enough to get to document him.
This image was shot with a 35mm lens (ISO = 160, Aperture = f1.4, Shutter = 1/600th)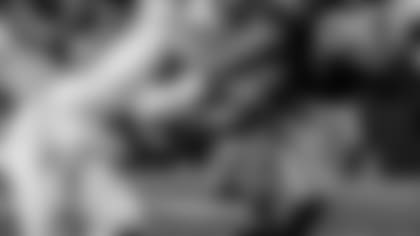 Framed Focus
There is a purpose for getting clean, head-to-toe trading-card type action shots but I'd rather document a player in a more layered composition. I'm lucky to have creative freedom when I cover the team. When I'm asked to get a shot of a certain player, I'll be sure to get a predictable shot but most of the time I'm trying to document that player in a unique way. For example, I might try using a slow shutter speed while focusing on a running back as he races across the field. That technique might create visual color streaks and more importantly depict "motion." I'm a big fan of framing players through stuff too. Of course, luck, yet again, helps with the outcome.
This image of Green Bay Packers quarterback Aaron Rodgers is a perfect example of how an action image can be distinctive. While tracking Rodgers through my viewfinder I noticed the look in his eyes, locked in on a receiver. As he rolled out of the pocket, I continuously shot off images, even as players ran in front of him. The framing, body language and the look in his eyes made the image pretty special.
This image was shot with a 400mm lens (ISO = 3200, Aperture = f2.8, Shutter = 1/2500th)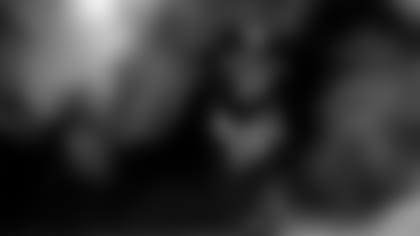 Making an Entrance
Tunnel imagery is tricky… you must be all in on the shot, no indecisiveness because you could miss it entirely. Exposure plays a big factor in getting the shot due to the bright spotlights and the dark shadows. When I'm inside the tunnel I always have a 35mm and an 85mm at my hip.
Week 12, against the Los Angeles Rams, I decided that I wanted to document the introductions from outside the tunnel with long glass, so everything would be compressed. I stuck with an exposure that would allow me to slightly tweak the highlights/shadows without compromising the overall look; meaning that I didn't want the highlights to be blown out or the shadows/mid-tones too dark. I set the focus to manual mode, knowing exactly where I wanted the focal point to be, I also didn't want the camera in autofocus mode because the smoke/fog could shift the focus.
While photographing the introductions I tend to keep my fingers crossed because you never know what will happen and how it will affect your images; sometimes the smoke is too thick or a player has bad body English, etc. Luckily, this image of Davante Adams wouldn't be as visual if it weren't for the cool smoke/fog pattern that perfectly wrapped around his body. I love how it traveled across the entire frame. Luck can play a big role in a final composition.
This image was shot with an 400mm lens (ISO = 1600, Aperture = f2.8, Shutter = 1/5000th)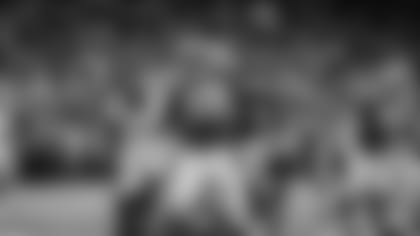 Hear me Roar
Packers running back AJ Dillon has a violent style of running. Those up-the-middle power runs are sure fun to document, but the best part are his reactions after he plows into the end zone.
One of my favorite reaction shots of Dillon came in the fourth quarter during Week 17 against the Minnesota Vikings. Dillon muscled his way in for a 7-yard run and then stomped across the end zone and let out a roar. The image portrayed his intensity and power to the fullest. Of course, he capped off the TD with a famous Lambeau Leap.
This image was shot with a 35mm lens (ISO = 400, Aperture = f1.4, Shutter = 1/2000th)
Team photographer Evan Siegle shares his favorite photos from the 2021 Green Bay Packers season.