'Through the Lens' will appear periodically during the offseason. Packers team photographer Evan Siegle will deconstruct and give insight to some of his favorite images from the 2021 season. Each week will offer a new photo gallery of some of his best photos from the past season.
Gratitude
Preparation is everything, especially in my world as the Green Bay Packers team photographer. That preparation has turned into a routine before every game, from what time I show up to the stadium, to cleaning every piece of my camera gear before I pack it into my Think Tank rolling bag, which I take down to the field. My preparation can be very detailed, too, like keeping my cameras at the exact same distance/length/position from me while covering a game, so I can reach them without looking and stay in stride with my continuous shooting. I also jot down notes on what might unfold or important possibilities. I don't mind being over prepared because I know it's only a benefit, especially documenting a game where moments happen in a blink of an eye.
Christmas Day (Week 16 against the Cleveland Browns) was one of those games I needed to be prepared for because of two franchise records on the cusp of being broken. One of those milestones was Brett Favre's career passing touchdowns record, which stood at 442. Knowing that Aaron Rodgers just needed one TD to break the record, my game plan was to solely concentrate on Rodgers until he broke the record. I was dedicating all my focus on that exact moment, so you could say that I wanted it to unfold fast and early in the game.
My plan was to cover Rodgers from the sideline, instead of where I usually set up, which is in the back of the end zone. I positioned myself almost near the line of scrimmage, knowing that would allow me to get an image of him throwing the ball and then his reaction. Luckily, the record-breaking moment came in the first quarter. I was successful on getting the throw and Aaron's reaction as he was mobbed by his teammates. There were a lot of great moments that unfolded on the field, but I think the best reactions came in the bench area. The crowd was electric as they chanted at Rodgers. I captured this special moment of Aaron as he displayed his love back to the adoring fans. I love the look in his eyes and his hands against his chest. It was an intimate moment between one of the best players in the game and the greatest fans. It was a day filled with total gratitude.
This image was shot with a 35mm lens (ISO = 500, Aperture = f1.4, Shutter = 1/5000th).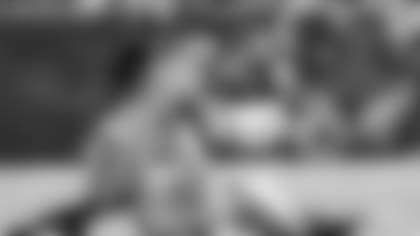 Upended Bengal
There's nothing better than coming away from documenting a game and having a unique image. Maybe it's a great action shot of someone making a diving catch, a helmet getting jarred loose on a tackle, or maybe it's just a cool feature image that you stumbled across.
During the second quarter of the Packers-Bengals game, I captured this moment of Packers safety Darnell Savage and linebacker De'Vondre Campbell as they upended Bengals quarterback Joe Burrow. It was a hard-hitting play that left Burrow flying. After the play I was excited to see what I captured in my camera. I like how Burrow is in mid-air with a grimace on his face. You could tell that it was a big hit and I have no idea how Burrow held onto that ball. I'm not for players getting hurt, so it was cool to see Burrow jog off the field after the play. This image was probably one of my favorite action images of the year.
This image was shot with a 400mm lens (ISO = 400, Aperture = f2.8, Shutter = 1/3200th).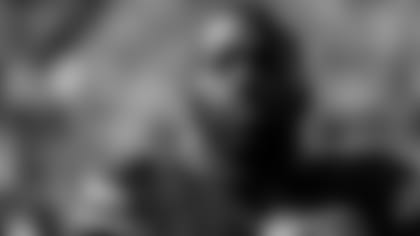 Monochromatic Mercilus
Light and shadow. Call it chiaroscuro but regardless I love the strong contrast as sunlight hits the side of Packers linebacker Whitney Mercilus' face before an October game against Washington. Being that this portrait was shot from a close distance while using a very wide aperture (smaller f-number), I knew that the bokeh would make Mercilus pop out of the frame. I loved the results of the image.
This image was shot with an 85mm lens (ISO = 100, Aperture = f1.2, Shutter = 1/8000th).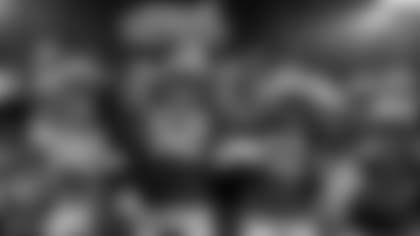 Flexing
Fellow photographers ask me after a defensive takeaway, "They run to you don't they!?" I don't know if that's 100% true, but I'm sure it helps that they see a familiar face when they race toward the end zone.
Everyone wants to see what a player's reaction will be after a big play. I think the fans love it, the players love it, and photographers love capturing it. The players can get creative with dance moves, skits or an occasional muscle flex. During Week 2 against the Detroit Lions, Packers linebacker Krys Barnes recovered a fumble, which then led the defensive unit racing towards the end zone. I grabbed my wide-angle lens in hopes of documenting a worthy image. Sure enough, they raced right toward me. In fact, they came right up to my camera. The D-Train was in full celebration mode.
This image was shot with a 35mm lens (ISO = 2000, Aperture = f2.8, Shutter = 1/2000th).
Team photographer Evan Siegle shares his favorite photos from the 2021 Green Bay Packers season.